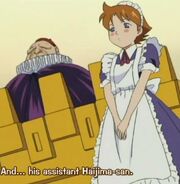 Gordon Hashiguchi is a special tasting judge brought in to judge the beginner's competition along with Ryou. He is introduced in the 2nd half of episode 16 in the anime. He is brought in for the final rounds for the best 8 for the quarter finals.
He has an assistant named Haijima who dresses as a maid and helps serve him the food he is judging.
His name is a play on "debu" which means something like "fatso" in Japanese.
He is a retired manga artist (author of the hit "Takitate Gohan" = to boil rice, which is an obvious parody of the anime series) who has released countless hits into the world.
He can't actually cook, but became very rich and began eating great amounts of gourmet delicacy food, so he is a skilled taster. He forgot how to walk so he is driven around everywhere on a bulldozer, which smashes through the wall of the building the contestants were competing in.
He mostly says "so busy, so busy".
Death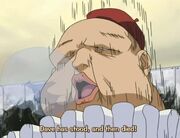 In Episode 21, both Gordon and Ryou were killed by the cooking of Kazuma, because it was just too delicious to survive, bringing the fatility count to 3 when including his grandfather Umasaburou whom he killed previously.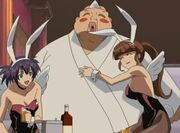 He and Ryou travel to heaven together where they take comfort in the arms of angels.